Because we care about and value our patients, MedSmart is a program designed to provide safe and reliable medication regimens in easy to manage packaging. Our team is committed to help you thrive in your everyday lives, so you're not burdened by your medications! Get all your medications automatically delivered to your home every 28 days. Enrolling into the program is easy!
One of our team members will be in touch to schedule an in-home visit to review your medications with you and any other additional information such as doctors you see, what pharmacy(-ies) you have used, and more. You'll get a call from our team every month to check in with you if you have any medication changes, if you have been hospitalized recently, or if you are returning home from a rehabilitation center. We will work with your doctors to provide quality solutions and make sure your medication regimen is optimal and cost friendly. We look forward to serving you and making you apart of our family!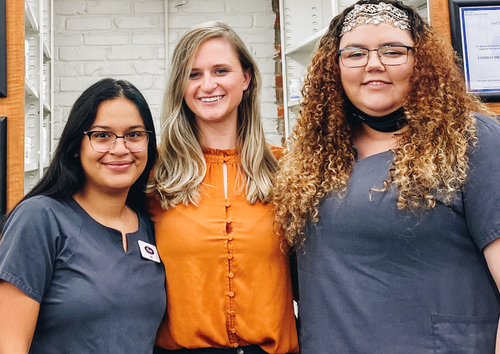 Clinic Pharmacy MedSmart Staff
Bri Barrera Olvera, Jamie Frazier, Sierra Oxendine
Jamie Frazier
Jamie Frazier is originally from Satellite Beach, Florida. She completed her undergraduate degree from the University of Mississippi and received her PharmD/MBA at Belmont University in Nashville, TN. She is dedicated to helping her patients reach optimal health outcomes through a personalized approach.
Sierra Oxendine
Sierra Oxendine is a certified technicians from Saint Pauls, NC. She loves getting to know the customers at Clinic Pharmacy and building stronger relationships with them.
Bri (Brianda) Barrera Olvera
Brianda Barrera Olvera is a certified technician from Hope Mills, NC. She attends Campbell University studying Biology and Biomedical Humanities with a Spanish minor. She loves working in a pharmacy and hopes to pursue a career in the medical field after her undergraduate studies.